How Managed Print Services Improve Your Office
Managing your daily workload
is stressful enough without having to worry about
managing printing devices and documents.
As a result,
most companies opt to use
managed print
services to support their printing endeavors throughout the day.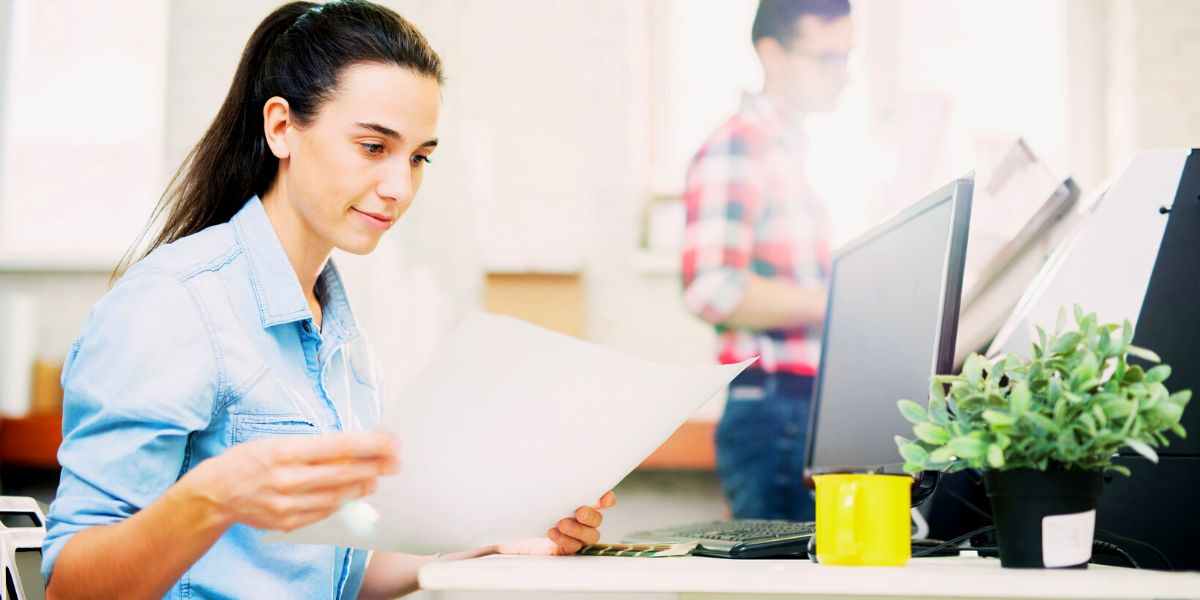 But what do managed print services actually do? How do these services help offices with printing or managing important information? To answer those questions, let's review how managed print services work along with the improvements they offer to any office space.
What are Managed Print Services?
Designed to oversee, analyze, and improve printing in a simplified manner, managed print services (MPS) enhance your business' overall productivity by taking over printing documents and devices. Using a team of expert technicians, managed print services develop personalized plans to help clients manage their professional documents, typically by repairing machines or delivery flaws in order to streamline their services.
Benefits of Managed Print Services
When businesses try to manage their own print services, valuable time and support is frequently taken away from important projects, resulting in delays and lost productivity. Therefore, companies rely on managed print service providers to cover tedious print management tasks. So, how does this improve office productivity? Here are some examples:
Better Productivity
Initially, managed print service providers analyze and establish network connections to the clients' important printing documents and devices currently in use. In this process, companies undergo a complete audit to strategize where improvements in delivery and production are needed. Once complete, providers are able to figure out where upgrades in document delivery, print usage, device repairs, and security upgrades are most needed to enhance office productivity. From there, managed print services will continue to help clients improve their printing efficiency and production beyond current measurements.
Controlled Tracking
Through managed print services, companies receive regular reports not only on expenses, but also where your documents are going throughout the delivery process. Generally, it's difficult for companies to keep track of where every document goes unless confirmed by vendors; however, with MPS, you receive a collection of digital invoices and notices which identify the types of documents as well as their confirmed delivery time.
Cost-Efficient
By directing certain repairs to improve document delivery and printing quality, managed print services also aid businesses in cutting wasteful costs. These production savings often come from MPS's strategy to streamline printing, which includes making document delivery faster as well as upgrading the office space with modern printing equipment. By creating a more effective work environment and user-friendly space when printing, businesses reduce IT support in these areas, enabling IT team members to return their focus to major projects or internal software upgrades throughout the company.
Higher Security
Incorporating managed print services into your office functions comes with improved security measures and efficiency. New printing copiers, fax machines, and scanners now come with network connection capabilities to connect all devices within a department. However, Wi-Fi networks can be hacked, risking not only sensitive information but also energy from your IT team as they try to block the virus. Through managed print services, providers use their own protection networks to monitor client data, providing more protection through digital document management. Moreover, managed print services can notify and track unauthorized access attempts, keeping data accessible while blocking and identifying weaknesses within your cybersecurity. Therefore, managed print services function as a protective coverage to manage and secure documents from intrusion.
Enhanced Supply and Maintenance Support
Often, managed print services can remotely monitor printer ink and toner levels when linked to a joint network. As a result, offices will be stocked with the right amount of supplies for their needs, meaning productivity won't pause during daily tasks nor will providers overcharge clients with more printing supplies than necessary. Clients will find their office operations smoother and more efficient when all printing supplies and device maintenance is covered by managed print services.
Choose Copy Systems as Your Managed Print Services Provider
Overall, managed print services provide the utmost support to help businesses improve their time, energy, and quality of documents and prints within their services. In turn, organizations stand to increase their productivity and customer experiences with customers and by using an MPS provider to take care of important documents and device repairs. Even employees will see the benefits of managed print services without the worry of printer ink supplies and repairs holding up important presentations or tasks.
At Copy Systems Inc., we offer extensive managed print services to customers in printSMART, servicing repairs or resale of new and refurbished copiers or printers for all your office needs. To better protect your printed business documents and information, check out CSI's SMART solutions or contact us today!