Copy Systems' 50th Anniversary
Since 1972, Copy Systems has been dedicated to customer service and employee support.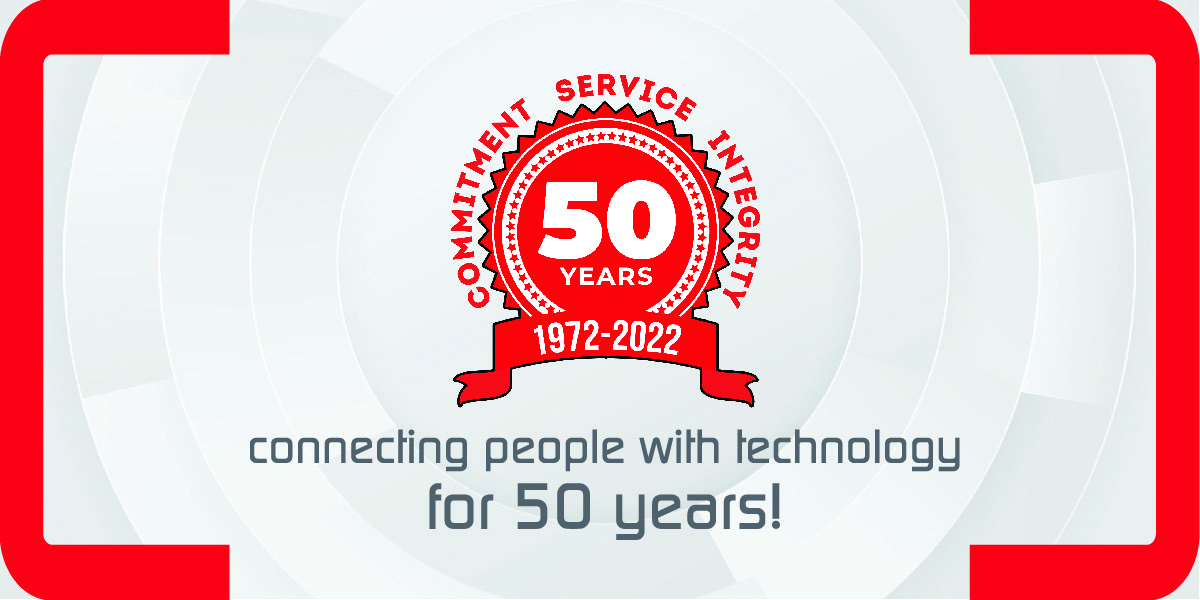 To celebrate our 50th Anniversary, owners Troy and Michelle give their current insights into the company.
Secret to Success
From its start "in an unheated garage in West Des Moines, Copy Systems, Inc. is in the business of servicing our customers and providing a good, stable place for people to build their careers," Michelle says. Early on, William Paterson—Troy and Michelle's father—taught that 'the customer is always right,' empowering everyone to go above and beyond to take care of customer needs. "Without customers," they say, "none of us would have a job."
Copy Systems' core values impassion and inspire employees each day when building customer relationships. These values, naturally, abbreviate to CSI:
C-Commitment to the Long-Term Success of our Customers, People and our Business
S-Service the Customer above all else
I-Integrity in all of our Relationships
These virtues can't be trained or taught; rather, CSI's culture and identity must be embraced as these values influence who we hire, train, and retain. It is this foundation that has enabled Copy Systems to grow from 5 to 35 employees and continue to expand within Iowa and Illinois.
Early Days
Though Copy Systems, Inc started in 1972, William Paterson joined in 1978 as the 3rd employee—using his no frills, red and white striped cargo van to deliver inventory. His wife, Sheryl, helped support his vision for Copy Systems, Inc. from buying the business to working as an employee starting in 1980, filling positions throughout the company early on.

Family vacations were mostly camping, or "roughing it in the sticks" in that same van despite lacking backseats or carpet for the kids. They improvised: using cushioned redwood patio furniture for the trip. From riding in style in a Ford Mustang to trading it in for a minivan, Michelle and Troy grew up learning to appreciate what matters most: family, friends, and relationships. Troy recalls his father's commitment to those relationships from one New Year's Day on which they delivered a machine to a customer's door, reiterating customer service as CSI's bedrock today towards customers, employees, and vendors like Kyocera, Quadient, Epson, and Connectwise.
Connecting People with Technology
Though CSI originally provided office and mailroom machines, these offerings have expanded. Troy and Michelle boast of their current 4 business divisions. As one source for all office needs, CSI's SMART series sets them apart from competition as the only dealer to offer these solutions:
NetSMART, for automated Security, Virtual CIO, Managed IT, and Backup Disaster and Recovery.
PrintSMART, for optimal development and delivery of custom prints with tiered color options and tracking software.
MailSMART, providing innovative mailing solutions for automated physical and digital mail.
FileSMART, enhancing daily operations with secure document storage and retrieval for any business.
With "Service to the Customer Above All Else" as their motto, CSI continues its goal of customer satisfaction by allowing personal contact to owners Troy and Michelle, linking people to technology.
Employee Development
Rated one of the Top 100 Places to Work in Des Moines, CSI's 50 years of quality are credited not to luck, but to our employees who act on the same family integrity.
Both agree "none of this would be possible without the dedication and hard work of our employees." Encouraged by a company culture that inspires them to achieve the best results, Michelle states "It's a blessing to have such an amazing team."
Employee support comes from CSI's 100-day onboarding period. Troy calls training "the most important time for new hires" to review their online programs while reflecting whether CSI suits them. Quarterly reviews also allow the company to receive feedback from employees using ASK: if Attitude is lacking, what Skills or Knowledge need work.
Copy Systems' Future
The Paterson family all express tremendous optimism for CSI's future. Having bought 2 companies in the last 4 years, Troy foresees potential growth as the company actively expands, confirming a "forward moving direction" from Michelle with the addition of their Iowa Falls branch. Likewise, CSI's sales and marketing productivity hopes to improve with automation technology in coming years. As a family business, the family looks forward to the company's future as the next generation starts to actively take part in Copy Systems' future, which holds promise for continued prosperity and dedication to quality care as started by Bill.
An exciting but challenging path, Troy and Michelle look forward to 50 more years within the next phase in CSI's journey. Contact us today to learn more about Copy Systems, Inc.'s services.